David Garrett - Schedule, Program & Tickets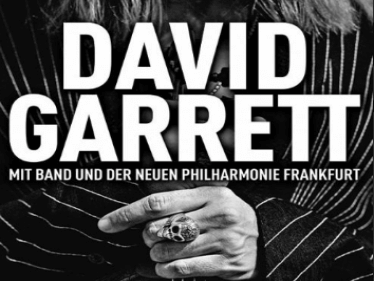 David Garrett
With over three million albums sold, 24 gold and 16 platinum awards in countries such as Germany, Hong Kong, Mexico, Singapore, Taiwan and Brazil, as well as million-selling tickets, David Garrett is one of the biggest stars in today's music scene.

With his new "UNLIMITED - GREATEST HITS" tour David Garrett wants to celebrate his 10 years crossover anniversary together with his fans and will perform on 31.05.2019 in the Wiener Stadthalle.

For David Garrett, there were no musical boundaries since the beginning of his career. "UNLIMITED" is therefore more than a tour title: it is his personal philosophy of life. Anyone who knows David Garrett knows that his musical creativity is limitless. Through this passion for music, he has managed to inspire a whole new audience not only for crossover, but also for the classical music.

"I'm incredibly looking forward to the 'UNLIMITED - Greatest Hits Tour 2019' and, together with my band, I want to take my fans with me and inspire them more than ever. Together with my audience, I want to celebrate the music and the last ten years. "

With the program of the "UNLIMITED" tour, David Garrett thanks above all to his fans, but also to his entire team and all those who accompanied and supported him. That's why he's going to stage highlights from the past decade, such as "Smooth Criminal," "Nothing Else Matters," "He's a Pirate," "Viva la Vida," and "Thunderstruck." David Garrett plays some of his best songs in a new arrangement and for the first time Unplugged, which will impress his fans in particular.

Subject to change.