Schönbrunn Palace Concerts - Schedule, Program & Tickets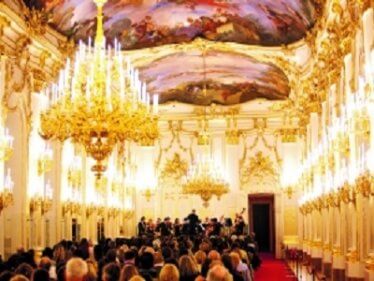 Schönbrunn Palace Concerts
• Daily concert
• Highly qualified and internationally sought-after musicians
• Original location of the world-famous competition between Mozart & Salieri (1786)
• Free choice of seat in the selected category at the Schönbrunn Palace concert
• VIP category only: a glass of sparkling wine or sparkling wine orange at our concert bar and a CD per person

Where Mozart himself once played, the Schönbrunn Palace Orchestra awaits you for an enchanting concert with selected works by Mozart and Strauss, accompanied by dance and song.

In the first part of the concert you will enjoy some of the most beautiful overtures, arias and duets from Wolfgang Amadeus Mozart's concertos and operas, such as "Le Nozze di Figaro", "The Magic Flute" and "Don Giovanni".
The most popular operetta arias, waltzes and polkas by the waltz king Johann Strauss - from "Die Fledermaus" and "Der Zigeunerbaron" to the "Donauwalzer" and the "Radetzkymarsch" - will delight you in the second part of the concert.
Two opera singers, a soprano, a baritone and a charming ballet couple will accompany you through the concert evening.

Attention: Due to the corona pandemic, no ballet is currently performing at the concerts.

start of concert
8:30 p.m
01.04.-31.10. (Schönbrunn Palace Orchestra)
01.11.-23.12. & 02.01.-31.03. (Schönbrunn Palace Ensemble)

Christmas Silvester
Schönbrunn Palace Orchestra
24.12. 3:00 p.m
25.-30.12. 8:30 p.m
31.12. 7:00 p.m
01.01. 4:00 p.m. & 8:30 p.m


venue

On selected dates, the concerts take place in the Great Gallery or in the White Gold Room directly in the palace, in the Schönbrunn Palace Theater or in other concert halls in Vienna.



Subject to change.