Tosca - Schedule, Program & Tickets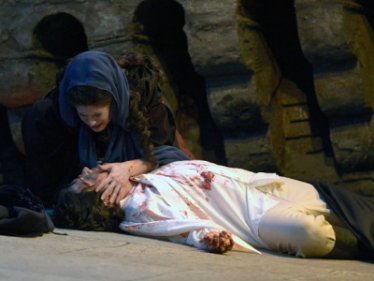 Tosca
Giacomo Puccini (1858 – 1924)

Melodramma in 3 acts
Libretto by Giuseppe Giacosa and Luigi Illica
based on the drama LA TOSCA by Victorien Sardou
First performed on 14th January 1900 in Rome
Premiered at the Deutsche Oper Berlin on 13th April 1969

In Italian with German and English surtitles

Conductor
Ivan Repusic
Director
Boleslaw Barlog
Stage-design, Costume-design
Filippo Sanjust
Chorus master
Thomas Richter
Children's Chorus
Christian Lindhorst
Tosca
Anja Harteros
Mario Cavaradossi
Jorge de León
Scarpia
Falk Struckmann
Angelotti
Derek Welton
Sacristan
Noel Bouley
Spoletta
James Kryshak
Sciarrone
Alexei Botnarciuc
Turnkey
John Carpenter
Chorus
Kinderchor der Deutschen Oper Berlin
Chor der Deutschen Oper Berlin
Orchestra
Orchester der Deutschen Oper Berlin

Puccini's "Torture Opera", as Oskar Bie dubbed it, was based on LA TOSCA, the well received play by Victorien Sardou [1831–1908], which premiered in Paris in 1887 with Sarah Bernhardt in the title role. Puccini attended a performance of the play in Milan during an 1889 tour and found the subject matter interesting, although the Tosca project was to remain dormant for another six years. Puccini's interest in the work grew, doubtless prompted by another viewing of the Sardou play in Florence and by Luigi Illica's work on a TOSCA libretto for composer Alberto Franchetti [1860–1942]. Following a "conspiracy" between Puccini, Illica and Ricordi, the publisher successfully persuaded Franchetti to abandon his TOSCA project and to surrender the scoring rights to Puccini.

As in all other Puccini operas TOSCA amply demonstrates the mutual causality between humane attentiveness and culinary pleasure when the composer's artistic intention becomes the benchmark for interpretations. The outcry and resignation are the two fundamental prerequisites for the human attention paid by Puccini: The empathy reflected in his composition, far from contenting itself with abstract gestures, aims to disturb and transform. The "small things" - Puccini refers to them with modern understatement as his preferred focus of attention – become "large issues", provided that we want this to happen.
In view of the connection between Puccini's choice of subject matter (directly and indirectly inspired by Zola, Hauptmann and Gorki) and his method of composition it is natural that we crown him Verdi's successor and confer on him the badge of "verismo". He is known to have been a great admirer of Wagner and anything but a second-rate imitator. He created a very personal bond with Verdi and Wagner by taking his inspiration from both masters. He took all their harmony refinements and subtleties of instrumentation and managed to detach the voice somewhat from the orchestra, all the while giving it a far more fragmented and melodically sensitive accompagnato in the orchestra than the radical and laconic Verdi ever had. This is also mirrored in the aesthetic theme of Tosca. Puccini's musical statement is as brutal as it is tender, as intelligent as it is sentimental, as precise as it is dreamy. Puccini's watchwords are authenticity, precision of musical detail, social awareness, the poetic sound of the ostensibly mundane, heroism coupled with shrewdness, the contrast between passionate commitment and cold remoteness.

The Chief of Police Scarpia, the singer Floria Tosca and the artist Cavaradossi in their different ways, all insist on their personal freedom to act as they please - Scarpia as a condition of his claim to power, Cavaradossi in his rebellious urge to bring about change and Tosca as an expression of a plain, unlimited love.

At a time of momentous change such attitudes take on an exemplary significance. Depending on how we view Puccini and ourselves today, we can approach TOSCA as a romantic schlocker or as a bad omen for freedom. Whatever our attitude, each of these very different individuals in the triangular relationship pays the ultimate price for his or her actions. Their deaths are not accompanied by a glorious halo marked Redemption; they are bitter, horrific, definitive.

Götz Friedrich's 1987 reappraisal of Boleslaw Barlog's straightforward and unadulterated interpretation in 1969 takes Puccini's intentions literally: the mutual causality between humane attentiveness and culinary pleasure is nourished by the music and feeds, in turn, into the scenic interpretation.