Madame Butterfly - Schedule, Program & Tickets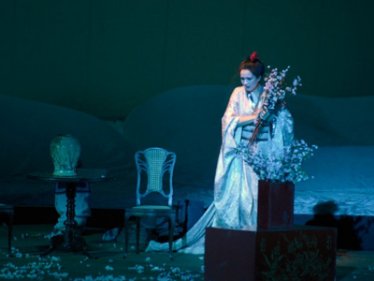 Madame Butterfly
Giacomo Puccini (1858 – 1924)

Japanese tragedy in 3 acts
Libretto by Luigi Illica and Giuseppe Giacosa
after "Madame Butterfly" by David Belasco
First performed on 17th February 1904 in Milan
Premiered at the Deutsche Oper Berlin on 20th June 1987

In Italian with German and English surtitles

2hrs 45 mins / 1 interval

Conductor
Stefano Ranzani
Director, Stage design, Costume design
Pier Luigi Samaritani
Chorus master
Thomas Richter
Cio-Cio-San
Hui He
Suzuki
Jana Kurucová
Kate Pinkerton
Abigail Levis
Benjamin Franklin Pinkerton
Fabio Sartori
Sharpless
Noel Bouley
Goro
Andrew Dickinson
Prince Yamadori
Jörg Schörner
The Bonze
Ievgen Orlov
Imperial Commissioner
John Carpenter
Official Registrar
Thomas Lehman
Chorus
Chor der Deutschen Oper Berlin
Orchestra
Orchester der Deutschen Oper Berlin

American Lieutenant Pinkerton's ship has dropped anchor in Nagasaki harbour. Seeking distraction, he has been courting Geisha Cio-Cio-San, named Butterfly, a girl of 15 from an aristocratic family that has fallen on hard times. Young Butterfly takes her love for Pinkerton very seriously. Pinkerton desires a "short marriage", not uncommon between Europeans and Geishas at the time, and even selects a little house for their honeymoon with the help of Goro, the marriage broker. Sharpless, the American consul, tries to warn him, but Pinkerton mocks his friend and even pronounces a toast to the day when he will celebrate a "real" wedding with an American woman.For the young Japanese girl, who has proved her love for Pinkerton to the point of converting to Christianity, the alliance with the foreigner has painful consequences: her family disowns her after the wedding. Pinkerton has a hard time consoling his "butterfly".

Three years have passed. Cio-Cio-San leads an isolated existence with Suzuki, her loyal servant, and her little child. In her unshakeable belief that Pinkerton will return she has resisted all attempts by Prince Yamadori to win her hand in marriage. Sharpless finally arrives with a message from Pinkerton in which he is asked to prepare Butterfly for his imminent return and break the news to her that he has now married Kate, an American. He is shocked to learn that she has a child. Not daring to carry out his task, he simply informs her of Pinkerton's arrival. Cio-Cio-San is happy. Together with Suzuki she decorates her house, dons her wedding dress and awaits her beloved Pinkerton.

When Pinkerton arrives on Butterfly's doorstep with his wife Kate and the consul Suzuki discovers the truth of the matter. Suzuki is asked to persuade Butterfly to part with her child. Pinkerton does not want a face-to-face encounter and leaves. Butterfly discovers the strange woman and suddenly realizes that Pinkerton has not come back to her – he only wants to take the child away with him. She asks for half an hour to herself and bids her little son farewell. Then she ends her life.

"The world of theatre is full of opposites - surprises, emotions, the sparking of interest. What use do I have for heroes or immortal beings? I feel uneasy in such an environment. I am no musician for the grand occasion. My feel is for the small things in life; I only love to explore small things. This is why I liked Manon. She was all heart, nothing more, nothing less ... And this is why I liked Butterfly, because she is such a transparent, feminine thing yet capable of loving even unto death." All his life Puccini declared MADAME BUTTERFLY to be his favourite work, as well as his best. The work is a perfect reflection of his maxim of "the music of little things". Intricately chiselled musical details, captivating melodies for the singing roles, discreet exotic elements and a sensitive blend of tones in the orchestra have assured this opera's immortality not only for audiences; the work has also served as a model for many composers of subsequent generations, as have the other Puccini operas.

Only after the opera had been modified a number of times by the composer did it begin to garner public acclaim. The revised version, extended from two acts to three, was performed in Brescia on May 28, 1904. The interlude between the second and third act with the famous "humming chorus" was also new. The Deutsche Oper Berlin production has at its centre the tragedy of young woman who remains true to her love, even when it seems hopeless to everyone else. The atmospheric yet never folkloristic scenery provides an impressive backdrop to this magical work.