La Traviata - Schedule, Program & Tickets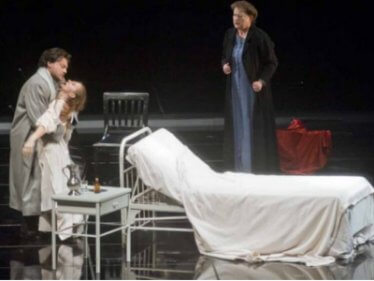 La Traviata
Giuseppe Verdi (1813 – 1901)

Melodramma in 3 acts
Libretto by Francesco Maria Piave based on the novelle
La dame aux camélias by Alexandre Dumas fils
First performed on 6. March, 1853 in Venice
Premiered at the Deutsche Oper Berlin on 20. November, 1999

In Italian with German and English surtitles

Conductor
Nicholas Carter
Director
Götz Friedrich
Stage-design
Frank Philipp Schlößmann
Costume-design
Klaus Bruns
Lighting
Ulrich Niepel
Choir Conductor
Thomas Richter
Choreographer
Klaus Beelitz
Violetta Valéry
Patrizia Ciofi
Alfredo Germont
Attilio Glaser
Giorgio Germont
Etienne Dupuis
Flora Bervoix
Jana Kurucová
Annina
Adriana Ferfezka
Gaston
Andrew Dickinson
Baron Douphol
Stephen Bronk
Marquis D'Obigny
John Carpenter
Doktor Grenvil
Alexei Botnarciuc
Giuseppe
Paul Kaufmann
A messenger
Thomas Lehman
A servant
Holger Gerberding
Chorus
Chor der Deutschen Oper Berlin
Orchestra
Orchester der Deutschen Oper Berlin

Violetta Valery is kept in luxury by her admirer Baron Douphol. Seemingly recovered from a serious illness, she hosts a glittering party at which she meets and falls in love with Alfredo Germont. The world in which Violetta lives cannot countenance such a love affair and so she abandons her old existence and seeks happiness with Alfredo in the countryside. Soon, however, Alfredo's father Giorgio beseeches Violetta to end the relationship, fearing that Violetta's dubious reputation will jeopardise the wedding of Alfredo's younger sister. In despair, Violetta concedes and writes a farewell letter to Alfredo. At a ball given by her friend Flora Alfredo and Violetta clash: Violetta has taken it upon herself to convince Alfredo that she is in love with Baron Douphol. Alfredo has won a large sum of money at the gambling tables. Overcome by jealousy, he hurls his winnings at Violetta's feet, publicly declaring this to be the "fee" for her "favours". One month later, with Paris in the grip of carnival fever, Violetta is at death's door, having suffered a relapse. Now that his father has revealed the true reasons for her actions, Alfredo hurries back. Violetta forgives Alfredo for his conduct, releases him and dies.

La Traviata was Verdi's only opera to be set among the Parisian middle classes of the day. It is based on the acclaimed novel The Lady of the Camellias by Alexandre Dumas fils, which is a critical portrayal of the Parisian demi-monde and charts the story of Marie Duplessis, a noble courtesan who died from consumption in 1847 at the age of 23. While Dumas paid considerable attention to social networks and relationships, Verdi and his librettist Francesco Maria Piave focused entirely on the conflict between Violetta, Alfredo and his father Giorgio. Their drama concerns itself only with internal conflicts and focuses on the three phases in the fortunes of Violetta Valery - love, renunciation and death.

By presenting Violetta's tribulations in the form of a retrospective narrative Götz Friedrich has given his tragedy the atmosphere of a requiem. No sooner has the opera begun than we see the protagonist on her deathbed, surrounded by the dark vastness of the stage, which resembles a gigantic tomb. As the ball begins Violetta, now in ballroom attire, rises from the bed, which has become a divan. Suddenly the doors burst open and in pours the frolicking Parisian crowd, intent on its frivolous entertainment. The flashback begins. Shunning sentimentality and trivial frankness, Friedrich's production reaches deep into the characters, laying bare the inner drama and bringing the gloom and fatalism of the piece to the fore.

Subject to change.