Faust - Schedule, Program & Tickets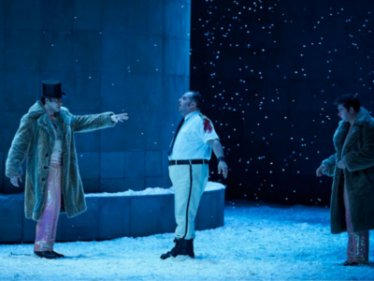 Faust
Charles Gounod (1818 – 1893)

Opera in 4 acts
Libretto by Jules Paul Barbier and Michel Florentin Carré,
based on Carré's Drame fantastique "Faust et Marguerite"
and Johann Wolfgang Goethe's "Faust. Der Tragödie erster Teil"
First performed on 19th March,1859 in Paris
Premiered at the Deutsche Oper Berlin on 19th June, 2015

In French language with German and English surtitles

Conductor
Jacques Lacombe
Director
Philipp Stölzl
Assistant Director
Mara Kurotschka
Set-design
Philipp Stölzl
Heike Vollmer
Costume-design
Ursula Kudrna
Light-design
Ulrich Niepel
Choir Conductor
Thomas Richter
Faust
Abdellah Lasri
Méphistophélès
Ildebrando D'Arcangelo
Marguerite
Heidi Stober
Valentin
John Chest
Siebel
Irene Roberts
Wagner
John Carpenter
Marthe
Ronnita Miller
Chorus Master
Chor der Deutschen Oper Berlin
Orchestra
Orchester der Deutschen Oper Berlin

The work revolves around a young girl – Marguerite – who is seduced and believes in true love, but love is her downfall. She is surrounded by men, all with their different yearnings: Faust is dreaming of youthfulness and passion; Méphistophélčs is cold and voyeuristic, Marguerite's brother Valentin sees her as a status symbol, as his property. And Siebel, whose feelings are pure, loses out completely.

Charles Gounod isolates the individual destinies in "Faust", Goethe's philosophical drama, and weaves them into a florid, almost cinematic study of love and associated issues involving hope and self-doubt, bliss and devotion, and disillusionment, madness and loss of civil rights, big themes that make Gounod's FAUST a great opera bursting with high sentiment. With hits such as Marguerite's Air des Bijoux, Méphistophélčs' Golden Calf rondo and chorus pieces that include the Faust Waltz, Gounod's FAUST ranks with CARMEN and THE TALES OF HOFFMANN as one of the best-loved French operas of the 19th century.

Philipp Stölzl's works are known for their grand images and their subtlety in psychological matters. In recent years Stölzl has directed films such as "North Face", "Goethe!" and "The Physician" along with opera productions at the Salzburg and Vienna Festivals, the Theater Basel and the Staatsoper Berlin. After RIENZI and PARSIFAL, FAUST is his third production as director at the Deutsche Oper Berlin.