Venice Carnival Gala Dinner - Schedule, Program & Tickets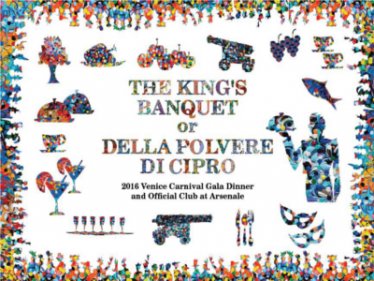 Venice Carnival Gala Dinner
The 2016Venice Carnival official Gala Dinner and club Arsenale - Extraordinary dining and entertainment experience in the most exclusive club of the Venice Carnival 2016!

We are pleased to present to you "The King's Banquet" an experience that will take you to the atmosphere of the Venetian Republic, once the hub of a time gone by, when the Arsenale glowed with statues, decorations and fires, celebrating the King of France who gasped in marvel and amazement.

FROM DINNER TO AN EXCLUSIVE CLUB WHERE YOU BECOME THE PROTAGONIST OF A
FASCINATING JOURNEY:

From spectator to actor mistaken among acrobats, Arsenale workers and paramours, taking your hand and leading you into another dimension …
Bewitched and fascinated, let yourself be accompanied, by lights, sounds, performances and music to where dreams end, where the Arsenale's historical atmosphere is contaminated by an optical illusion.

PROGRAM:

9.00pm– *Welcome drink*@ The Club tesa 93
9.30pm – *Dinner*@ tesa 92
11.00pm – *The Club*@ tesa 93 with performance, live music
01.00– *Dj music until early morning* @ The Club tesa 93

Guests have *access to the exclusive club and '/dance machine/'*@ tesa 94

*USEFUL INFORMATION*

Dress Code: *masked* or smart elegant.

A face mask will be given to all guests. Please inform in case of food allergies/intolerances, and an alternative menu will be offered.
Entrance is forbidden to minors under the age of 16.

A dinner ticket includes priority entry to 'The Club tesa 93', welcome drink , and a special invitation to the Casinò di Venezia, making your 'Venice experience' even more incredible.