Capuchins Crypt: Sacred Music in the Heart of Rome - Schedule, Program & Tickets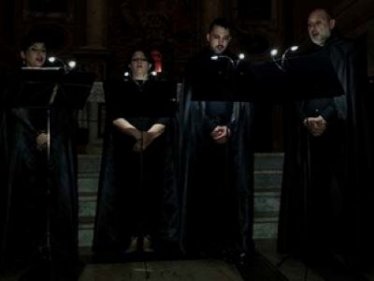 Capuchins Crypt: Sacred Music in the Heart of Rome
08.04.2020 , Wednesday
17:15
Capuchins Church, Via Vittorio Veneto 27, Rome, Italy
A guided tour in English through the mysterious and fascinating Capuchin Crypt, the beautiful Capuchin Church and the museum as well as an intensive live concert with Gregorian singing and intellectual polyphonic music.
From the spirituality of Caravaggio's painting The meditation of St. Francis to the choir, from the creepy walk through the 4000 bones of the crypt to the spiritual music that resonates perfectly in the church, you will definitely have a unique experience!

After the concert, you can have dinner in the "Terrazza Borromimi" restaurant in Piazza Navona.
The restaurant houses the breathtaking Palazzo Pamphilj with a wonderful view of the Eternal City.
You will have a full sensory experience if you try the best dishes of our traditional cuisine.

Program
Music of the Sistine Chapel by Palestrina, Arcadelt, Morales, Victoria, Pitoni, Agazzari, Gregorian chant performed live by "Schola Romana Ensemble", our resident historically informed music group.

Organic:
Soprano, Alto, Tenor, Bass & Conductor
Art historian

What's included
Entrance fee to the museum
Guided tour in English of the Capuchins museum and of the church with an art historian
Introduction to the musical program
Concert in the reserved Capuchins church
Traditional Roman Dinner in the halls of the cozy Restaurant "Terrazza Borromini" at Palazzo Pamphilj, Piazza Navona. Our ticket includes transportation to the restaurant with a taxi reserved for our guests (3 min.)
Menu

Antipasti / Starter

Melanzane alla parmigiana
Eggplant parmigiana
or
Caprese
Fresh tomato and Buffalo mozzarella

Primo piatto / First course

Amatriciana
Pasta with black pork, bacon from Calabria and pecorino cheese 24 D.O.P, tomato sauce
or
Cacio e pepe
Pasta with Pecorino cheese D.O.P. with green, red and white pepper from Madagascar
or
Gricia
Pasta with black pork, bacon from Calabria and pecorino cheese 24 D.O.P.
or
Carbonara
Pasta with black pork, bacon from Calabria, eggs, black pepper from Madagascar and pecorino cheese 24 D.O.P.


Secondo piatto / Second course

Polpettine dello chef
Meatballs of the chef
or
Tesoretto di vitella ripieno di verdure di stagione
Veal stuffed with seasonal vegetables.

Contorno / Side

Verdure di stagione
Seasonal vegetables

Dessert

Dolce della casa
Chef's dessert

Bevande / Drinks

Water
Coffee

Wine not included.

Subject to change.