Bratislava (Bus - Boat) - Schedule, Program & Tickets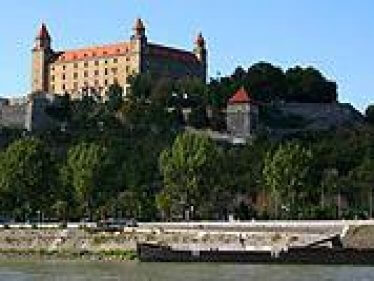 Bratislava (Bus - Boat)
Only an hour away from Vienna lies Bratislava, the capital of Slovakia which has a lovely historical city centre. On this day trip you will not only see many tourist attractions but also take a scenic boat tour on the Danube.
__________________________________________________

Bus Tour Vienna to Bratislava

Our bus tour to Bratislava by modern touring bus, starts from the Vienna State Opera. Enjoy the just under an hour's drive to Bratislava.

Guided walk of the historic city centre

Our city tour guide awaits you at the bus station. The first stop on the walk will be the 18th century Plague Column. Then we walk through the pedestrian area of the inner city to the beautiful National Theater and continue along the promenade lined with small coffee houses.

Tourist attractions you will see include the Michael's Gate with its elegant onion dome, the historical City Hall and the impressive Maximilian Fountain. The city tour ends at St. Martin's Cathedral where the Hungarian kings were crowned.

After the tour there is free time for lunch and you can enjoy the rest of the afternoon shopping, sightseeing or relaxing.

Finally, another highlight awaits you: the journey back to Vienna by modern highspeed catamaran - the Twin City Liner. Please get to the departure dock "pontoon HUMA 6" at Razus Embankment. The boat leaves at 4:00 p.m. Relax on the journey back along the unspoiled river landscape and the national park "Donauauen" to Schwedenplatz in the centre of Vienna. Arrival in Vienna at 5:30 p.m.
__________________________________________________

Details

Available:
01.04. - 30.10.2017 I daily

Duration:
9 hours

Departure time & languages:
8:30 a.m. I German, English

Departure point:
Vienna State Opera (metro lines U1/U2/U4, station Karlsplatz)

On request free pickup from selected hotels and transfer to the departure point. (Pickup can only be guaranteed when the tour is booked until 6 pm the day before.)

End:
Schwedenplatz (metro lines U1/U4, station Schwedenplatz)

Including:
Bus trip by modern touring bus
Guided city walk through Bratislava
Boat trip back to Vienna by catamaran "Twin City Liner"

Notes:
For the trip back please get to departure dock "pontoon HUMA 6" at Razus Embankment (Rázusovo nábrežie 811 02 Bratislava) punctually. The ship departs at 4:00 p.m.

Reservation and a valid TRAVEL DOCUMENT (no copy) are absolutely necessary.