Boybands Forever - Schedule, Program & Tickets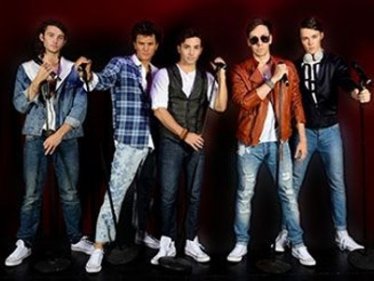 Boybands Forever
Die Reise durch die faszinierende Welt, die verblüffenden Tanzchoreografien und den unsterblichen Sound der Boybands geht weiter! Die neue Live-Show BOYBANDS FOREVER aus der Feder des genialen Entertainers und bekennenden "Take That"-Fans Thomas Hermanns erobert das deutsche Publikum auf ihrer aktuellen Frühjahrstournee im Sturm. Deshalb kommt die Revue mit den besten Songs von "New Kids on the Block", "Take That", "Backstreet Boys" oder "One Direction" im Herbst 2018 zurück, um in der Wiener Stadthalle am 27.10.2018 das Boyband-Feuer zu entfachen.

BOYBANDS FOREVER ist eine Musical-Show, die uns das Phänomen und sein Erfolgsgeheimnis ergründen lässt – Step by Step und Hit für Hit. Zusammen mit einer erstklassigen Cast, wird das Publikum mitgenommen auf eine spannende Rundreise durch die Jahrzehnte, über zwei Kontinente und erfährt alles über die Essenz der ultimativen Boyband. Was ist es, was diesen Zauber ausmacht, die Emotionen auslöst? Welche Rolle spielen die Charaktere, die Outfits, die Videos?

Zwei Stunden voller perfekter Choreografie, beeindruckender Dancemoves und cooler Styles, aber auch viel Spaß, Selbstironie und vor allem einzigartiger Melodien mit den so besonderen Gesangsharmonien. Zusammen mit einer erstklassigen Band und Cast werden bei BOYBANDS FOREVER über 40 Hits der wichtigsten Boybands wie Backstreet Boys, Take That, East 17, New Kids on the Block, Boyzone, N´Sync und One Direction präsentiert.

Die fünf Protagonisten der Show verzücken nicht nur die weiblichen Fans. Aber natürlich bringen die fünf Charaktere: der Schwiegersohn John, der süße Sascha, der sportliche Rik, der dramatische Lucian und der namenlose Fünfte neben ihren außergewöhnlichen Stimmen auch so einiges fürs Auge mit.

BOYBANDS FOREVER – die ultimative Show über das faszinierendste Musikphänomen der Welt!

Änderungen vorbehalten.