Boris Godunow - Schedule, Program & Tickets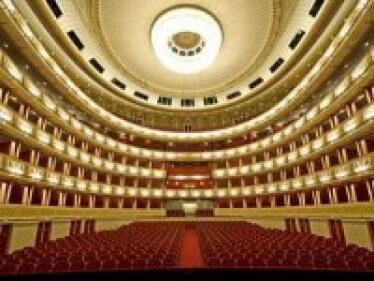 Boris Godunow
11.05.2022 , Wednesday
Staatsoper, Opernring 2, 1010 Vienna
conductor
Sebastian Weigle
Direction and equipment
Yannis Kokkos
Directorial assistance
Stephan Grögler
dramaturgy
Anne Blancard
Boris Godunov
Ildar Abdrazakov
Fyodor
Margaret Plummer
Xenia
Tamuna Gochashvili
Shuisky
Thomas Ebenstein
Pimen
Vitaly Kovalyov
Grigori
Dmitry Golovnin

In front of the Moscow Maiden monastery, the people are forced with lashes to implore Boris Godunov to accept the election as tsar. After the murder of the rightful heir Dimitri, the throne is vacant. Filled with fearful premonitions, Boris moves into the Kremlin the next day to the cheers of the people for his coronation. The monk Pimen writes a Russian chronicle in the Chudov Monastery. The last chapter is about the murder of Tsarevich Dimitri by Boris' henchmen. Dimitri would be just as old as Grigori today, says the monk, which makes a great impression on Grigori. When Pimen leaves to pray, Grigori leaves the monastery intending to fight Boris. Wanted in a wanted list, Grigori joins the beggar monks Warlaam and Missail. In a tavern near the Lithuanian border, he barely escapes a guard. Boris Godunov suffers agonies of conscience in the Tsar's palace in the Kremlin. Prince Shuiski reports that a man has risen in Poland who claims to be Dimitri. Thereupon Boris von Shuiski, who witnessed the crime, once again describes the murder of Dimitri. In a fit of madness, the figure of the murdered child appears to him. In front of St. Basil's Cathedral in Moscow, the starving people beg Boris for bread. The fool of God accuses him of murdering the Tsarevich. The gathering of boyars learns of Boris' delusions from Shuisky. When he himself appears, he feels his end is approaching. He says goodbye to his son and dies.

Subject to changes.