Armide - Schedule, Program & Tickets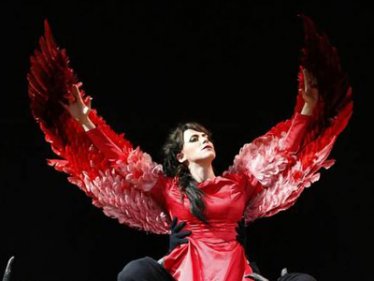 Armide
Marc Minkowski | Dirigent
Ivan Alexandre | Regie
Pierre-André Weitz | Ausstattung
Bertrand Killy | Licht
Jean Renshaw | Choreographie
Florent Siaud | Regieassistenz
Pierre Lebon | Ausstattungsassistenz

Gaëlle Arquez | Armide
Paolo Rumetz | Hidraot
Stanislas de Barbeyrac | Renaud
Gabriel Bermúdez | Ubalde
Jinxu Xiahou | Der Dänische Ritter
Olga Bezsmertna | Phénice
Hila Fahima | Sidonie

The works of Christoph Willibald Gluck were still a popular feature of the programme at the Vienna Court Opera until the end of the 19th century. However, for decades thereafter local audiences remained completely unaware of these highly acclaimed masterpieces. However, Gluck was subsequently able to win back the place he deserved as a result of the renaissance of leading composers of the 17th and 18th centuries. Following Alceste, the Wiener Staatsoper has now revived Armide, another late Gluck opera, and incorporated it into the repertoire. At the centre of this heroic drama – first performed in Paris in 1777 – is Armide, a sorceress consumed by her hopeless love for Renaud. Gluck enchantingly unfolds to his audience a modern and multifaceted psychological drama about a woman simultaneously filled with both love and hatred.

Armida, ACT I
After the recent death of their beloved leader, Christian soldiers rally outside of Jerusalem where their new commander, Goffredo, speaks to them in order to lift their spirits. Goffredo's speech is interrupted by a beautiful woman claiming to be Damascus' rightful ruler. She begs the men to help her take back the crown from her evil uncle, Idraote, and to provide her with protection. The men are captivated by her beauty and they are quick to help her. Little do they know, however, that this is a only a plot to destroy them from within. The woman is the sorceress Armida, and her servant is her uncle, Idraote, in disguise. The soldiers convince Goffredo to aide her, and he decides that they must first elect a new leader. The new leader will then pick ten of the best men to help Armida.

The soldiers elect Rinaldo, which makes Gernando jealous. Armida has met Rinaldo once before, and since then, she has been secretly in love with him. When he approaches her, she reminds him that she saved his life. When he seems to be ungrateful, Armida scolds him. Rinaldo denies her accusations and replies that he is in love with her. Gernando catches the two lovers together and mocks Rinaldo in front of the other soldiers, calling him a womanizer. Rinaldo is insulted and challenges him to a duel. Gernando accepts the challenge. The duel ends when Rinaldo overcomes and kills Gernando. Immediately regretting his actions and fearing his life, Rinaldo escapes with Armida and her uncle before Goffredo can punish him.

Armida, ACT 2

Rinaldo has followed Armida deep into a dark forest, and he proves to be putty in her hand since he doesn't mind the fact that Astarotte, a prince of hell, has brought in denizens of darkness to aid in Armida's plot to destroy the Christian soldiers. When Armida confesses her intentions, Rinaldo stays with her and agrees to continue to help.

Armida, pleased with his answer, delightfully reveals her pleasure palace that was cloaked by her powerful magic. She provides him with extravagances and delirious entertainment, so much so, that he completely forgets about the army he left behind.

Armida, ACT 3

Concerned for Rinaldo's life, two of his solider friends, Ubaldo and Carlo, set out to find Rinaldo and bring him back to safety. After hiking through the dark forest, they find themselves standing in the beautiful gardens of Armida's palace. Ubaldo and Carlo have come equipped with a magical gold staff after they learned Armida was an evil sorceress. They know the garden and the palace is just an illusion to capture innocent prey, and when they are approached by nymphs trying to seduce them, the two men are able to withstand temptation. When Armida and Rinaldo exit the palace together, Ubaldo and Carlo hide in the bushes. Finally, when Rinaldo is left alone, Ubaldo and Carlo rush over to save him. Rinaldo is impervious to their passionate requests to take him away. He is in love with Armida and he will never leave her side. Finally, the two men hold up their mirror-like shields. When Rinaldo looks upon his reflection, he is horrified that he no longer recognizes the man he sees. He prays for strength because his love for Armida is very powerful. Finally, he departs with his friends. Armida returns to the gardens to be with Rinaldo, and when she cannot find him, she pleads to the powers of hell to bring her love back to her. As time passes and hell itself is unable to meet her demands, Armida runs out of her palace and chases after the men.
She finds the men getting ready to embark on a ship back to their homeland. Armida begs Rinaldo to stay with her. She would do anything for him, even if that means to fight on the side of his men. Rinaldo's love for her remains strong. When he hesitates to depart, Ubaldo and Carlo have to restrain him and drag him on board. Armida's heart breaks. She badly wants to be with Rinaldo, but instead, she chooses anger over love and swears to have her revenge. She rushes back to her palace and sets it ablaze, before flying off into the sky in a fit of rage.