Ariadne auf Naxos - Schedule, Program & Tickets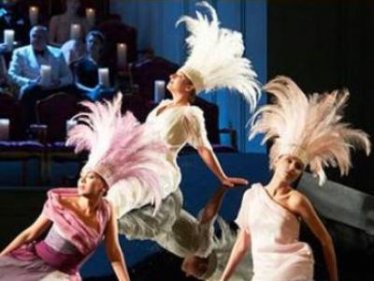 Ariadne auf Naxos
Composer: Richard Strauss

Cornelius Meister | Dirigent
Sven-Eric Bechtolf | Regie
Rolf Glittenberg | Bühne
Marianne Glittenberg | Kostüme
Jürgen Hoffmann | Licht

Peter Matić | Der Haushofmeister
Jochen Schmeckenbecher | Ein Musiklehrer
Sophie Koch | Der Komponist
Gerhard A. Siegel | Der Tenor (Bacchus)
Daniela Fally | Zerbinetta
Krassimira Stoyanova | Die Primadonna (Ariadne)

Delightful comedy in which the strange desire of a wealthy, but art ignorant authority to perform an opera and a musical play at the same time is finally realized yet successful.

Prologue
The servants of the wealthiest man in Vienna are busy preparing the stage for a planned performance in their master's palace. Two troupes have been engaged and are busily making preparations behind the scenes. One them is to play the opera Ariadne on Naxos, the first work by a young composer, whilst the other will perform a dance masquerade in the Italian buffo style. Petty jealousies between the members of both troupes already have emotions running high. The situation is exacerbated by an unexpected and incomprehensible change of programme communicated by the lord of the house through his major-domo: he now wishes the two pieces to be performed for his invited guests not one after the other, but at the same time. Deeply mortified, the composer wishes to withdraw his composition and forgo its first public performance, since the work represents an authentic implementation of his artistic worldview. However, he has a change of heart thanks to the practically minded music teacher, and Zerbinetta: well versed especially in the art of seduction, the latter inveigles the inexperienced young composer in no time at all. With a resounding hymn to the nature of music, the composer accepts reality and the instructions of his patron. The opera Ariadne on Naxos will therefore be performed in the desired manner, with interludes by an troupe of Italian comedians.
Opera
Outside a cave on the shores of the island of Naxos, Ariadne longs for death after being abandoned by Theseus, her rescuer and lover. Oblivious to everything going on around her, she takes no notice of the three nymphs, nor of the comedians trying to cheer her up, nor even of Zerbinetta. Drawing on her wealth of experience, Zerbinetta sings an audacious aria advising the grieving Ariadne not to shed a single tear for her departed lover, and to remain open for new love. A radiant youth is seen approaching in the distance: it is Bacchus, the god of the eternal regeneration. He comes from the arms of the sorceress Circe, where he was unable to find what he was looking for. Mistaking him for the messenger of death, Ariadne, goes out to meet him: without immediately noticing it, she falls ecstatically in love with him, an emotion which the god reciprocates. Transformed by one another as if reborn, Ariadne and Bacchus bring the opera to a close as a truly mystically united couple.