Andrew Lloyd Webber Musical Gala - Schedule, Program & Tickets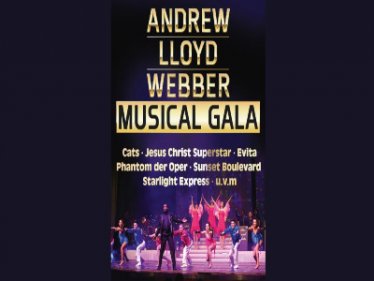 Andrew Lloyd Webber Musical Gala
20.01.2021 , Wednesday
20:00
Stadthalle, Hall F Vogelweidplatz 14, 1150 Vienna
Diese Show begeistert nun schon seit über drei Jahren Zuschauer in Deutschland, in der Schweiz, in Österreich, Italien, Norwegen, Schweden und Dänemark. Nach einer triumphalen Tournee durch China ist sie nun zurück in Europa! 6 Gesangsolisten und 7 Musicaldarsteller, allesamt direkt aus dem Londoner West End, und das 10-köpfige Live-Orchester nehmen die Zuschauer mit auf eine emotionale Reise der großen Gefühle zu den erfolgreichsten Musical-Kompositionen von Andrew Lloyd Webber! Die große "Andrew Lloyd Webber Musical Gala" – am Mittwoch, 20. Januar in der Wiener Stadthalle!

Wer kennt sie nicht? Titel wie "Don't Cry for me Argentina", "Memories", "Starlight Express", "With One Look" oder "Music of the Night"? Die weltbekannten Musical-Highlights des Starkomponisten Andrew Lloyd Webber! Nun gibt es all diese unvergesslichen Hits live an einem Abend.

Energiegeladen führt ein Moderator das Publikum in deutscher Sprache durch das Programm. Rasante Tanzszenen, großartig interpretierte Musik, stimmgewaltiger Gesang und eine spektakuläre Lichtshow - die "Andrew Lloyd Webber Musical Gala" bietet all dies und noch mehr. Eine Show, die sowohl die Fans des Meisters begeistert als auch die Zuschauer, die Webbers Musik ganz neu entdecken.

Die aus Australien stammende und in Paris lebende Choreografin Jeanette Damant entwarf die Choreografie, die mit der Regie von Jochen Sautter, der ebenfalls in Paris lebt und arbeitet, geschickt abgestimmt ist. Spektakuläres Videomapping und Lichtdesign von Daniel Stryjecki geben der Show eine einzigartige Note und lassen faszinierende Bilder entstehen. Die Kostüme wurden in Paris in Zusammenarbeit mit Rick Dijkmann, Kostümdesigner bei Disneyland Paris, entworfen. Orchestriert und arrangiert wurde die Musik von Peter Oleksiak, der das Orchester von 10 Musikern aus England, Spanien, Deutschland und Polen leitet. Für die künstlerische und musikalische Gesamtleitung sind Deborah Sasson und Jochen Sautter verantwortlich.

Jetzt Tickets sichern und einen Abend im Zeichen von Andrew Lloyd Webber erleben!

Änderungen vorbehalten.