Abba Gold - Schedule, Program & Tickets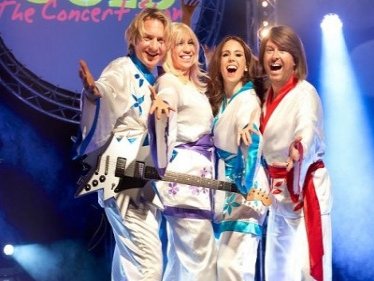 Abba Gold
Über 375 Millionen verkaufte Tonträger weltweit sowie in mehr als 20 Ländern 124-mal Platz 1 in den jeweiligen Single-Charts und 78-mal Platz 1 in den Album-Charts sprechen eine deutliche Sprache. Heute ist ABBA längst zum Mythos geworden, der die Menschen nach wie vor fasziniert und inspiriert.

Mit "ABBA GOLD - The Concert Show" wird dieser Mythos perfekt zu neuem Leben erweckt – überwältigend, bewegend, unvergesslich. Dass die Superhits, mit denen ABBA die Discos in den 1970er- und 1980er-Jahren dominierte, heute wie damals das Publikum unmittelbar begeistern, ist bei "ABBA GOLD - The Concert Show" Abend für Abend mitzuerleben. So sorgen die Macher von "ABBA GOLD" unter der Ägide des Produzenten Werner Leonard, seines Zeichens Gründungsmitglied des Palast Orchesters mit seinem Sänger Max Raabe sowie bis Oktober 2013 künstlerischer Leiter und Produzent von "ABBA MANIA", auch in der kommenden Spielzeit für wahre Begeisterungsstürme beim Publikum.

Damit das Publikum den unverwechselbaren ABBA-Klang zu 100 Prozent originalgetreu erleben kann, wurde wochenlang im Tonstudio gearbeitet. Doch nicht nur der Sound auch die Choreographie besticht durch höchste Perfektion und Authentizität. Mit Superhits wie "Waterloo", "Money, Money, Money", "Thank you for the music", "Mamma Mia", "SOS", "Super Trouper", "Dancing Queen", "Chiquitita" oder "Fernando" lässt "ABBA GOLD - The Concert Show" die ABBA-Glitzerwelt auf Plateauschuhen wieder auferstehen. Was vor wenigen Jahren als kleines feines Event begann, begeistert in der Saison 2016/17 allein in Deutschland in über 70 Veranstaltungen zahllose Menschen. "ABBA GOLD" ist in punkto musikalischer Qualität und Bühnenshow definitiv Weltklasse!

Änderungen vorbehalten.