Rusalka - Spielplan, Programm & Tickets kaufen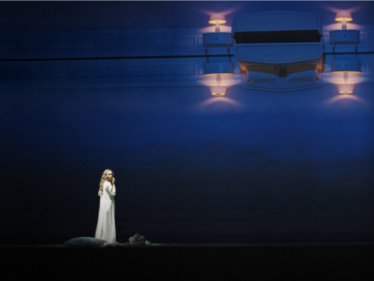 Rusalka
LYRIC TALE IN THREE ACTS (1901)
MUSIC BY ANTONÍN DVOŘÁK (1841-1904)
LIBRETTO BY JAROSLAV KVAPIL
performed in Czech

Jakub Hrůša Conductor
Robert Carsen Stage director
Michael Levine Sets and costumes
Robert Carsen / Peter Van Praet Lighting
Philippe Giraudeau Choreography
José Luis Basso Choruses master

Khachatur Badalyan : Le Prince
Alisa Kolosova : La Princesse étrangère
Olga Guryakova : Rusalka
Dimitry Ivashchenko : L'Esprit du lac
Larissa Diadkova : Ježibaba
Igor Gnidii : Le Garde-forestier
Diana Axentii : Le Garçon de cuisine
Yun Jung Choi : Première Nymphe
Anna Wall : Deuxième Nymphe
Agata Schmidt : Troisième Nymphe

Paris Opera Orchestra and Chorus

Inspired by tales of water nymphs or vila - those elemental aquatic spirits so dear to the Romantics – Rusalka tells the moving story of a water spirit who, having sacrificed her voice out of love for a prince, finds herself rejected by both the human and the aquatic worlds, betrayed, damned and condemned to everlasting solitude. What better medium for this ruthless examination of human deception, with its sublime Song to the Moon, than opera? Composed during the twilight of Dvořák's life, this work of exalted lyricism and consummate skill, into which he threw himself unsparingly, has been considered as the crowning glory of his career. The psychological subtlety of Robert Carsen's production is equalled only by its visual inventiveness. Olga Guryakova and Khachatur Badalyan interpret the roles of these two beings from different worlds whose love is stamped with the seal of impossibility.