La Traviata - Spielplan, Programm & Tickets kaufen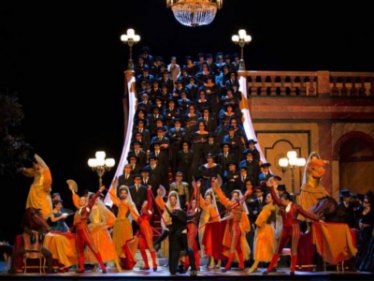 La Traviata
OPÉRA IN THREE ACTS (1853)
MUSIC BY GIUSEPPE VERDI (1813-1901)
LIBRETTO BY FRANCESCO MARIA PIAVE
BASED ON ALEXANDRE DUMAS FILS'S PLAY "LA DAME AUX CAMÉLIAS"
Performed in Italian

Dan Ettinger Conductor
Benoît Jacquot Stage director
Sylvain Chauvelot Sets
Christian Gasc Costumes
André Diot Lighting
Philippe Giraudeau Choreography
José Luis Basso Choruses master

Ermonela Jaho : Violetta Valéry
Venera Gimadieva (26 sept, 7 oct) : Violetta Valéry
Anna Pennisi : Flora Bervoix
Cornelia Oncioiu : Annina
Francesco Meli (A) : Alfredo Germont
Ismael Jordi (B) : Alfredo Germont
Dmitri Hvorostovsky (A) : Giorgio Germont
Luca Salsi (B) : Giorgio Germont
Kevin Amiel : Gastone, Visconte de Letorières
Fabio Previati : Il Barone Douphol
Florian Sempey : Il Marchese d'Obigny
Antoine Garcin : Dottor Grenvil
Nicolas Marie : Giuseppe
Shin Jae Kim : Domestico
Jian-Hong Zhao : Commissionario

Paris Opera Orchestra and Chorus
(A) 8, 10, 14, 17, 21, 24 SEPTEMBER
(B) 26, 30 SEPTEMBEr, 3, 5, 7, 12 OCTOBER

"Poor Mariette Duplessis is dead... the first woman I ever loved, and now she's in goodness knows which cemetery, abandoned to the maggots of the sepulchre! It's as she said to me fifteen months ago: "I won't live: I'm a strange girl and I won't be able to keep living a life I don't know how to lead and that I don't know how to bear either. Take me, lead me wherever you want; I won't bother you, I sleep all day. In the evening, you'll let me go to the theatre and at night you'll do with me as you wish!" I've never told you of the singular attachment I felt for that charming creature. And now she's dead... And I don't know what strange old elegy echoes in my heart at her memory."
Thus spoke Franz Liszt of Marie d'Agoult, the unforgettable ghost of the woman who would become the Dame aux camélias. After Dumas fils, it was Verdi who would give her immortality in his remarkable masterpiece, one of the repertoire's most striking portraits of a woman, at once cruel and sublime...