Werther - Schedule, Program & Tickets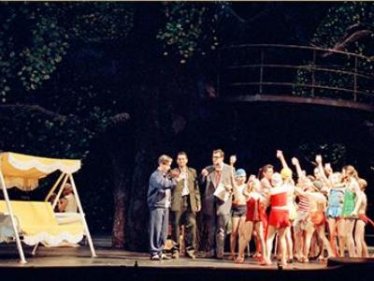 Werther
Composer: Jules Massenet

Frédéric Chaslin | Dirigent
Andrei Serban | Regie
Peter Pabst | Ausstattung
Petra Reinhardt | Kostümmitarbeit

Matthew Polenzani | Werther
Markus Eiche | Albert
Elīna Garanča | Charlotte

Since its first performance at the Vienna State Opera Massenet's romantic-tragic Werther belongs to the standard repertoire of the international programme.

In the middle of summer, the widowed magistrate is rehearsing Christmas carols with his young children. Werther, who comes to visit, rhapsodizes on the wonders of nature. When he sees the love that the children have for their sister Charlotte, the magistrate's only adult daughter, he is deeply impressed. Left alone with Charlotte, he declares his love for her. However, Charlotte evades his advances and tells him of a promise she made to her dying mother: to marry Albert, her fiancé. The news arrives that Albert has returned home. In deep despair, Werther is left alone.
Several months after Albert and Charlotte's wedding, the two rivals have occasion to talk. Albert seems to have forgiven Werther for his earlier passion. Charlotte and Werther are hardly left alone when Werther renews his protestation of love. Charlotte
once again rejects him and forbids seeing her again until Christmas time. Werther rushes out, leaving Sophie, Charlotte's fifteen-year-old sister, in tears. She is unhappily in love with him.
On Christmas day, Charlotte, who now realizes that she loves Werther, is reading his letters. She is alarmed by the threat contained in one of his letters to commit suicide. When Sophie joins her and talks about Werther, Charlotte collapses in tears. Shortly after Sophie leaves, Werther arrives quite unexpectedly. He demands a kiss, which Charlotte refuses him. Werther then leaves Charlotte and sends Albert a letter, asking him for his pistol. Albert duly has it sent to him. Charlotte remembers Wether's threats of suicide, and she rushes out to find him. However, by the time Charlotte finds him, he is already dying. Now that it is too late, she admits that she loves him. In the distance, the children are heard singing the Christmas carol that they were practicing in the summer.