Deva Premal & Miten with Manose and The Temple Band - Schedule, Program & Tickets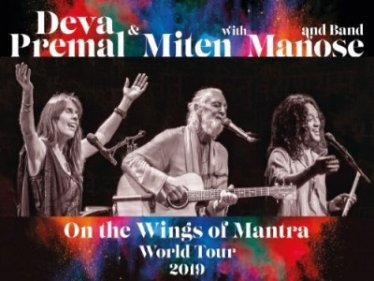 Deva Premal & Miten with Manose and The Temple Band
Vor 30 Jahren haben sich Deva Premal und Miten getroffen und auf den Weg gemacht, um mit ihrer Musik, ihren Konzerten und Gatherings, aber auch ihrer Liebe zueinander die Menschen auf der ganzen Welt zu inspirieren.

Zur Feier dieses Jubiläums werden die beiden bei der World Tour 2020 ihre Lieblingsstücke aus ihren 21 Alben präsentieren. Genauso wie einige herausragende Stücke ihres - für den Grammy 2019 nominierten - Albums Deva, auf dem auch das "Seven Chakra Gayatri Mantra", eines ihrer berühmtesten Erkennungsgesänge zu hören ist.

Wenn Deva Premal & Miten auf die Bühne treten, dann geschieht etwas, das man kaum beschreiben kann.

"There is a portal that we all go through, musicians and audiences alike", sagt Miten. "It's created by - and connected to - everyone in the theatre. For us, it's not about entertainment, it's a matter of life and death. When thousands of kindred spirits gather to chant these ancient prayers, magic happens."

Deva Premal & Miten with Manose
Manose: bansuri/vocals/ukulele/percussion
The Temple Band
Joby Baker: bass/keyboards/vocals
Miles Bould: drums
Spencer Cozens: piano/keyboards

Jetzt Tickets sichern!

Änderungen vorbehalten.