Jesus Christ Superstar - Schedule, Program & Tickets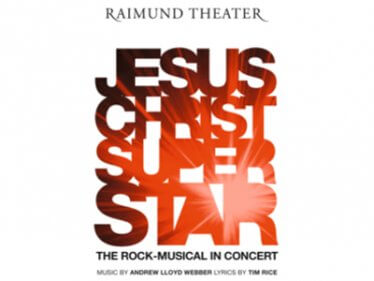 Jesus Christ Superstar
Erstmals seit der großen Wiedereröffnung im Jahr 2008 wird Andrew Lloyd Webbers weltbekannte Rock Oper JESUS CHRIST SUPERSTAR wieder im RAIMUND THEATER zu sehen sein.
In einer konzertanten, in Englischer Sprache gesungenen Fassung werden die letzten sieben Tage von Jesus Christus in Jerusalem aus der kritischen Sicht des Judas erzählt und zur österlichen Einstimmung auf die Bühne gebracht.
In diesem prominent besetzten Musical geht es um die Liebe Maria Magdalenas zu Jesus, das letzte Abendmahl, das Urteil Herodes, den Verrat von Judas der zum Kreuzweg Jesus und schlussendlich zu seinem Tod führt.

Tim Rice und der damals 21jährige Andrew Lloyd Webber brachten 1969, nach einem ersten Versuch an einem Bibelstoff mit JOSEPH AND THE AMAZING TECHNICOLOR DREAMCOAT, in England und in den USA eine Single "Superstar" heraus. Bis 1971 entwickelte sich daraus eine Rock-Oper, die zunächst als Album erschien, dann im Juli 1971 in Pittsburgh konzertant und am 12. Oktober 1971 im Mark Hellinger Theater in New York uraufgeführt wurde. Von 1972 bis 1981 liefen 3.358 Vorstellungen von JESUS CHRIST SUPERSTAR im Londoner West End und ein Jahr später folgte die Verfilmung bei Universal.
Die Österreichische Erstaufführung fand 1981 im Theater an der Wien statt.

Komponist: Andrew Lloyd Webber
Autor: Tim Rice
Regie: Dennis Kozeluh
Musikalische Leitung: Koen Schoots
Orchester: Orchester der Vereinigten Bühnen Wien

Besetzung:
Jesus – Drew Sarich
Judas – Alex Melcher
Maria Magdalena – Nadine Beiler
Kaiaphas/Apostel – Mark Sampson
Simon / Ensemble – Tobias Bieri
Peter / Ensemble – Benjamin Sommerfeld
Pilatus/Apostel – Marc Clear
Annas/Apostel – Peter Kratochvil
Herodes/Apostel – Armin Kahl
Soulgirl / Ensemble – Livia Wrede, Franziska Schuster, Marianne Curn
Priester / Ensemble – Oliver Aagard-Williams, Richard Patrocinio

Ensemble
Arthur Büscher – Walesca Frank – Dana Harbauer – Stefan Mosonyi – Raphaela Pekovsek – Georg Prohazka – Isabella Prühs – Veronique Spiteri – Niran Straub – Birgit Wanka

Änderungen vorbehalten.