Così fan tutte - Schedule, Program & Tickets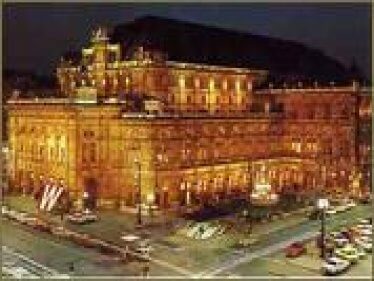 Così fan tutte
Wolfgang Amadeus Mozart

Tomáš Netopil | Dirigent
Roberto de Simone | Regie
Mauro Carosi | Bühne
Odette Nicoletti | Kostüme

Olga Bezsmertna | Fiordiligi
Margarita Gritskova | Dorabella
Markus Eiche | Guglielmo
Benjamin Bruns | Ferrando
Elena Maximova | Despina
Wolfgang Bankl | Don Alfonso

Don Alfonso engages the officers Ferrando and Guglielmo in a lively discussion about the fidelity of women. The young gentlemen are convinced of the steadfastness of their fiancées, the two sisters Fiordiligi and Dorabella. Alfonso does not share their opinion, however, and the men enter into a wager. Alfonso intends to demonstrate that a woman's fidelity will not even last 24 hours. He hurries to Fiordiligi and Dorabella, explaining to them that their fiancés have been summoned to the field of battle. Ferrando and Guglielmo pretend to take their leave of the despondent ladies. Alfonso enlists the assistance of Despina, the chamber maid, revealing only as much of his plan as necessary. She is to make life easier for the two foreign gentlemen wishing to court the two sisters. These gentlemen are none other than Ferrando and Guglielmo, who now appear heavily disguised, just as Fiordiligi and Dorabella are about to turn the "strangers" out, Don Alfonso welcomes them as old friends. Since the ladies do not immediately submit to their advances, the men develop a new strategy. They rush to Fiordiligi and Dorabella claiming that their unrequited love has caused them to take poison: they act out a dramatic death scene. In the guise of a doctor, Despina "saves" the two lovers with the assistance of the ladies, who have now become more compassionate. Just for fun, Fiordiligi and Dorabella pretend to give their new lovers a hearing: without realizing it, each of them chooses the wrong parter. Gradually they fall in love with the "new" lovers, and are soon ready to marry them. Despina dresses up as a notary to perform the "wedding ceremony". At this precise moment, Alfonso announces the return of the "former" lovers. The latter now appear in their original uniforms and "find" the marriage contract. In the end all is explains to the disconsolate ladies, and Alfonso is able to unite the right couples with one another again.