Alceste - Schedule, Program & Tickets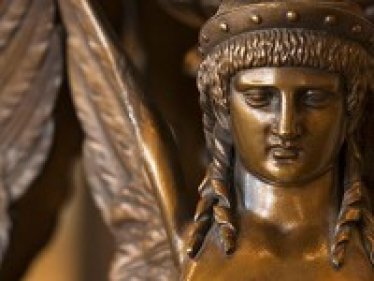 Alceste
Christoph Willibald Gluck

Les Talens Lyriques | Orchester
Gustav Mahler Chor | Chor
Christophe Rousset | Dirigent
Christof Loy | Regie
Dirk Becker | Bühnenbild
Ursula Renzenbrink | Kostüme
Olaf Winter | Licht
Thomas Wilhelm | Choreographie
Simone von Büren | Dramaturgie

Joseph Kaiser | Admète, König von Thessalien
Véronique Gens | Alceste, Gattin des Admète

ACT 1
Thessaly, during the reign of King Admetus. The king is close to death. His kingdom and his people are overcome by a sense of helplessness, sorrow and inability to grasp what death means. Even Alcestis, the king's wife, is unable to
find words to make sense of the imminent loss of husband, father and king. She urges the people to pray together. However, the high priest of Apollo fans the distraught people's fear with his relentless invocations. The poor people
feel insignificant before the great gods. An oracle now proclaims the impossible: if anyone were willing to die in place of the king, the king would recover. This becomes the moment of resolve for Alcestis. She is willing to give up her
life in order to save the life of her husband. By doing so, she defies the gods and their inhuman requirements.

ACT 2
The following day. The king's his children and people celebrate his miraculous recovery. The cruel gods allow Alcestis to witness the celebrations. Admetus learns that a subject has sacrificed himself in order to save the king's life. Alcestis
finally admits to Admetus that it was she who declared herself willing to die. Admetus and his children are aghast. The king's words are filled with shock, anguish and bitter reproach. In his despair and anger, Admetus is unable
to recognize Alcestis' sacrifice as affirmation of her love. Alcestis' life and suffering seem to have no end. She now longs for death and is more than ever prepared to die.

ACT 3
Several hours later. The children and the people await the news that their queen has been snatched from them by Death. They no longer believe in miracles. The avowal by all-powerful Hercules that he will do battle with the
gods therefore falls on deaf ears. Admetus and Alcestis once again have the opportunity to speak. She is already no longer in the Here and Now, she is already on the threshold of the Underworld. But now a miracle occurs. Everyone
is doing their utmost to restore Alcestis to life: Admetus, Hercules, the children, the people. Their common wish is granted. Alcestis' life is restored to her so that she can begin a new life: a life without fear of the incomprehensible,
of the gods and priests, who seem to have no love for people.