MUSIC FESTIVAL OF THE NATIONS - Schedule, Program & Tickets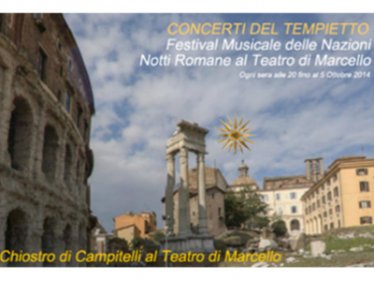 MUSIC FESTIVAL OF THE NATIONS
I Concerti del Tempietto and The Music Festival of Nations at Chiostro Campitelli in the fascinating atmosphere of Rome at night, among the ancient ruins of the Temple of Jupiter Stator in the Archaeological Area of the Theatre of Marcellus in Piazza Campitelli.

Roman nights at Theatre of Marcellus
Musical concerts, classical, pop, rock, jazz and folk, are being held every evening in one of the most beautiful areas in Rome!!
The Tempietto's Roman Summer
Music, art, history and archaeology in a unique path, a guided tour in the most ancient capital's area, among Theatre of Marcellus, Portico of Octavia and Valle dei Templi, of Apollo Sosiano, of Bellona, of Juno, of Janus and the Bocca della Veritá (Mouth of the Truth).
In case of bad weather, concerts will be held inside the beautiful Baroque venue, part of the same site and next to the prestigious seventeenth-century's Basilica of Saint Maria in Campitelli.