Sweeney Todd - Schedule, Program & Tickets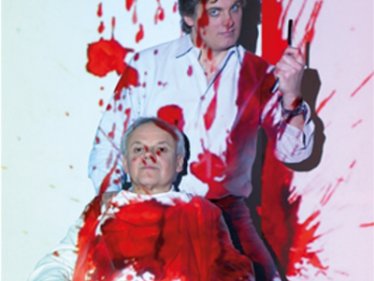 Sweeney Todd
Musical von Stephen Sondheim

Regie : Matthias Davids
Bühnenbild : Mathias Fischer-Dieskau
Kostüme : Susanne Hubrich
Licht : Fabrice Kebour
Choreinstudierung : Thomas Böttcher

Sweeney Todd : Morten Frank Larsen
Mrs. Lovett : Dagmar Hellberg
Richter Turpin : Robert Meyer
Tobias Ragg : Tom Schimon
Anthony Hope : Alexander Pinderak
Johanna : Anita Götz
Büttel Bamford : Kurt Schreibmayer
Rodolfo Pirelli : Vincent Schirrmacher
Bettlerin : Patricia Nessy
Jonas Fogg : Franz Suhrada
Vogelhändler : Georg Wacks

Ihren ersten Auftritt hatte die fiktive Figur Sweeney Todd in einem sogenannten "Penny dreadful", einem englischen Grusel-Fortsetzungsroman des Jahres 1846. Nach mehreren Dramatisierungen und Verfilmungen des Stoffes wurde Christopher Bonds Stück "Sweeney Todd. The Demon Barber of Fleet Street" 1973 in London uraufgeführt, das Stephen Sondheim kurz nach der Premiere sah: "Ich dachte noch auf dem Heimweg über die Operntauglichkeit des Stoffes nach." Sondheim hat seine bis dahin wichtigste Partitur später wahlweise als "Musical Thriller", als "dunkle Operette" oder als einen "Film für die Bühne" bezeichnet. 1979 uraufgeführt, wurde "Sweeney Todd" als eines von nur drei Musicals aller Zeiten (neben "South Pacific" und "Hairspray") mit den sechs wichtigsten Tony-Awards (Bestes Musical, Beste Partitur, Bestes Buch, Bester Hauptdarsteller, Beste Hauptdarstellerin, Beste Regie) ausgezeichnet. Der Barbier Benjamin Barker schlüpft unter dem falschem Namen Sweeney Todd bei Mrs. Lovett unter underöffnet im Dachgeschoss ihrer schlecht gehenden Pastetenbäckerei einen Rasiersalon. Von Lovett erfährt Todd, dass seine Frau, von Richter Turpin vergewaltigt, Gift genommen hat und gestorben ist; Todds Tochter Johanna hat Turpin adoptiert und will sie nun heiraten. Parallel zur Schilderung von Todds unaufhaltsamem Blutrausch entspinnt sich eine zarte Liebesgeschichte zwischen Johanna und dem jungen Seemann Anthony, Momente der atemlosen Spannung wechseln sich ab mit makaber-komischen Szenen. Die Spannung hält bis zum letzten Moment an: Wer ist die verwirrte Bettlerin, die immer wieder auftaucht? Und wozu ist der Knabe Toby, der Gehilfe von Todds erstem Opfer Pirelli, fähig?

Änderungen vorbehalten.