Pelléas et Mélisande - Schedule, Program & Tickets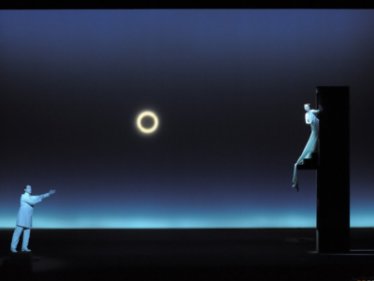 Pelléas et Mélisande
DRAME LYRIQUE IN FIVE ACTS AND TWELVE SCENES (1902)
MUSIC BY CLAUDE DEBUSSY (1862-1918)
POEM BY MAURICE MAETERLINCK
Performed in French

Philippe Jordan Conductor
Robert Wilson Stage director and sets
Frida Parmeggiani Costumes
Heinrich Brunke et Robert Wilson Lighting
Holm Keller Dramaturgy
Giuseppe Frigeni Co-metteur en scène
Stephanie Engelin Collaboration aux décors

Stéphane Degout : Pelléas
Paul Gay : Golaud
Franz Josef Selig : Arkel
Nicolas Cavallier (25, 28 Feb) : Arkel
Elena Tsallagova : Mélisande
Doris Soffel : Geneviève
Jérôme Varnier : Un Médecin, Le Berger
Julie Mathevet : Le petit Yniold

Paris Opera Orchestra and Chorus

Before discovering Maeterlinck's play, Debussy said of the opera he dreamt of composing: "Music begins when words are powerless to express; music is perfect for the inexpressible; I would like it to seem to come out of the shadows and, at times, to go back, always discreet." Thanks to Maeterlinck's characters, to his highly precise and very vague language, so cruel and so apt, Debussy was able to realise the drama of his dreams. A fateful enchantment holds sway over the castle of Allemonde. No sooner does Golaud find Mélisande in the forest and bring her to the kingdom of his ancestors than they find themselves unable to leave, chained to a place that nevertheless belongs nowhere. The castle is racked by desolation and decay. The park seems to be dying under the weight of invisible darkness. The sun barely manages to break through and cast light on the miraculous yet abandoned fountain which used to heal the eyes of the blind and whose waters appear to be bottomless. From the walls one can see the sea, and, at last, the clear sky. But there are also underground tunnels leading to the centre of the earth, suddenly reminding us that we are forever walking over chasms.
Philippe Jordan once again conducts Robert Wilson's immaculate production.