Mozart & Vivaldi: Konzerte in der St. Anna Kirche - Schedule, Program & Tickets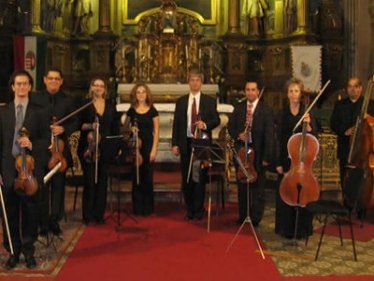 Mozart & Vivaldi: Konzerte in der St. Anna Kirche
Erleben Sie Werke von Mozart, Vivaldi und anderen in der St. Anna Kirche in Budapest.

Genießen Sie die barocke Architektur der St. Anna Kirche während Sie in der Schönheit klassischer Musik versinken.

Ungefähre Spielzeit (min.): 70

Programm
Pachelbel, Johann
Kanon in D-Dur
Vivaldi, Antonio
Gloria
Albinoni, Tomaso Giovanni
Adagio
Schubert, Franz
Ave Maria
Mozart, Wolfgang Amadeus
Church Sonata
Saint-Saëns, Camille
The Swan
Mozart, Wolfgang Amadeus
Ave Verum K. 618
Mozart, Wolfgang Amadeus
Alleluia Aria from Motet Exultate Jubilate, K165
Vivaldi, Antonio
Die vier Jahreszeiten

Programme 15.6.

J. Pachelbel (1653-1706) Canon
A. Vivaldi (1678-1741) Gloria
T. Albinoni (1671-1750) Adagio
F. Schubert (1797-1828) Ave Maria
W. A. Mozart (1756-1791) Church Sonate in D major
Ave Verum
Saint-Saens (1756-1791) The Swan
W. A. Mozart (1756-1791) Alleluja
A. Vivaldi (1678-1741) The Four Seasons
Summer, Winter, Spring, Autumn


Änderungen vorbehalten.