Monti Betons ELVIS NIGHT ERSATZTERMIN für 9.1.2021 - Schedule, Program & Tickets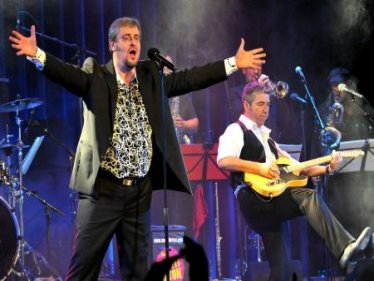 Monti Betons ELVIS NIGHT ERSATZTERMIN für 9.1.2021
MONTI BETON bleibt der Verehrung des "Artist Of The Century" Elvis Presley auch 2022 treu: Die ELVIS NIGHT gibt es nur einmal im Jahr und das traditionellerweise immer rund um den Geburtstag von Elvis. Die Band startet den jährlichen Konzertreigen seit immerhin 1992 (!!) mit der zurecht als legendär anerkannten "Happy Birthday, Elvis"-Show. Wer schon einmal dabei war, weiß warum er/sie gerne wieder kommt. Wer es tatsächlich noch nie geschafft hat, sollte es spätestens jetzt wagen und sich schon mal um Tickets kümmern, denn die besten davon sind meistens ziemlich rasch verkauft!!

Die beiden Bandleader Thomas und Toni führen gekonnt und humorvoll durch einen Abend der musikalischen Superlative, mit allen wichtigen Elvis-Hits von "Heartbreak Hotel" bis "Suspicious Minds", von "King Creole" bis "Burning Love". Elvis' Greatest Hits-Fans kommen also voll auf ihre Kosten, genauso wie jene Fans, die gerne die eine oder andere weniger oft gehörte Songperle erwarten.

Wie immer nimmt Monti Beton die ELVIS NIGHT zum Anlass, ihrem selbst erteilten "Kulturauftrag" Folge zu leisten und dem Publikum noch etwas mehr zu bieten als es sonst üblich ist. Und das seit bereits vielen Jahren unterstützt durch multimediale Präsentation mit raren Originalfotos und Infos zu jedem einzelnen Song des Abends!



Änderungen vorbehalten.
Monti Betons ELVIS NIGHT ERSATZTERMIN für 9.1.2021
Metropol Wien, Grosser Saal