Joan Baez - Schedule, Program & Tickets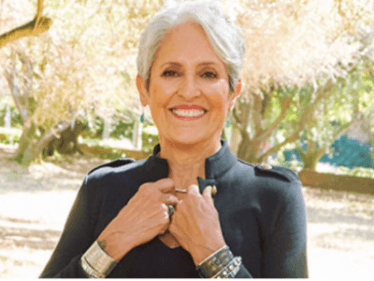 Joan Baez
Ein weiteres Extra für die Werbetafel von Caracalla 2018: Joan Baez wird am Montag, 6. August, sein neues Album "Whistle Down the Wind" auf der Spa-Bühne präsentieren. Seit 2008 ist dies das erste Studioalbum des Künstlers, aufgenommen in nur zehn Tagen in Los Angeles und produziert von Joe Henry (Gewinner von 3 Grammy Awards) mit Interpretationen von Songs von Tom Waits, Josh Ritter, Anohni, Joe Henry, Eliza Gilkyson, Mary Chapin Zimmermann, Tim Eriksen.

Legendäre Protagonistin der amerikanischen Volksmusik und Kultur von '68, fünfzig Jahre nach dieser außergewöhnlichen Saison, begrüßt Joan Baez mit einer letzten Tour das große Publikum seiner Fans.

Kurz nachdem Joan Baez im April 2017 zur Rock & Roll Hall of Fame gewechselt war, hatte er angekündigt, dass 2018 sein letztes offizielles Tournee-Jahr sein würde. "Ich kann es kaum erwarten, mit einem wunderschönen neuen Album auf Tour zu gehen, auf das ich wirklich stolz bin. Ich begrüße die Gelegenheit, dieses neue Gefühl mit meinen historischen Fans und der Öffentlichkeit auf der ganzen Welt zu teilen, und hat angekündigt, dass es eine lange Abschiedstournee in Europa (Fare Thee Well) einläuten wird, die auch berührt 'Italien.

Im Verlauf von sechzig Jahren der legendären Aufführung im Club 47 in Cambridge, Massachusetts, 1958 und dem darauffolgenden historischen Debüt von 1959 beim Folk Festival in Newport folgten zahlreiche Preise, Auszeichnungen und Aktivitäten in rasender Geschwindigkeit für den amerikanischen Singer-Songwriter. Im Oktober 2011 wurde es mit dem angesehenen Legion D'Onore, der höchsten französischen Auszeichnung, ausgezeichnet.

Änderungen vorbehalten.