Deva Premal & Miten with Manose and Band - Schedule, Program & Tickets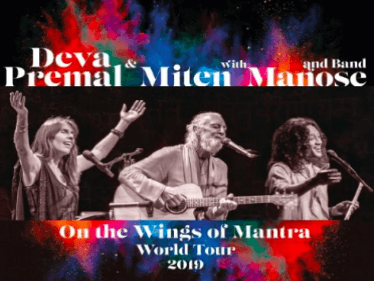 Deva Premal & Miten with Manose and Band
Mantra is now mainstream, Deva Premal & Miten have been at the forefront of this global vocal phenomenon for over 20 years, bringing the ancient healing power of mantra singing to the Vienna Stadthalle on October 14, 2019.

Immerse yourself in the power of mantras with Deva Premal & Miten and the Nepalese bansuri master Manose. The enchanting voice of Deva and the spiritual songs of Miten will accompany you.

Tonight we will also hear and sing the mantras from their current album Deva with the Seven Chakra Gayatri Mantra, as well as the spiritual songs from Miten's album Temple at Midnight.

Subject to change.
Deva Premal & Miten with Manose and Band
On the Wings of Mantra – World Tour 2019