Così fan tutte - Schedule, Program & Tickets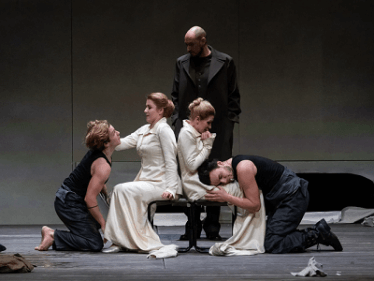 Così fan tutte
Date:
Time:
Price class:
Location:
16.10.2022 , Sunday
17:00
B
The Estates Theatre, Železná, Praha 1, Czech Republic
Approximate duration: 3 hours 10 minutes, 1 break 20 minutes

In Italian, subtitles in Czech, English

National Theater Choir
National Theater Orchestra
National Theater Opera Ballet

Mozart's Così fan tutte, ossia La scuola degli amanti (All Women Do It or The School of Lovers) is the last of three operas that were the result of the composer's collaboration with librettist Lorenzo Da Ponte. After Don Giovanni and Le nozze di Figaro, the two artists opted for a more intimate story, focusing on the relationships between their four protagonists, two engaged couples. Da Ponte drew inspiration from Ovid's Metamorphoses, Ariosto's Orlando furioso and Cimarosa's Buffa L'impresario in angustie for the timeless and bitter comedy about female (and ultimately male) fidelity. For a seemingly trivial story, Mozart created one of his most refined works, characterized by wonderful melodies and colorful orchestration, as well as excellent characterization of the people and situations.
Così fan tutte was first performed on January 26, 1790 in Vienna's Burgtheater under the baton of the composer. The opera came to Prague the following year, and local audiences were able to see two productions – the first was performed as a Singspiel and in German translation at the Patriotic Theater (in the former Hibernia Monastery), the second in its original form at the Nostitz Theater .

The current adaptation of Così fan tutte is by Tatjana Gürbaca, an award-winning German director who works for major European opera houses. The music was performed by the German conductor Karsten Januschke, who first appeared in 2021 at the Mozart birthday concert at the Estates Theater and also conducted the production of Don Giovanni.

A co-production with the Nationaltheater Mannheim.



Subject to change.