Ballett: Romeo and Juliet - Schedule, Program & Tickets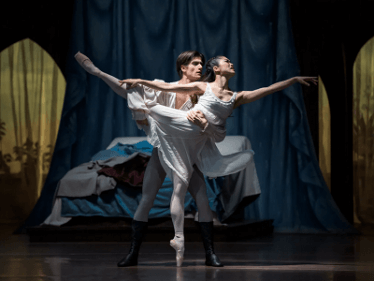 Ballett: Romeo and Juliet
Date:
Time:
Price class:
Location:
13.10.2022 , Thursday
19:00
B
Prague, State Opera, Wilsonova 4, 110 00 Praha 1, Czech Republic
Approximate duration: 2 hours 30 minutes, 2 breaks 20 minutes

Czech premiere: February 10, 2022 at the State Opera

Since its premiere eight decades ago, Sergei Prokofiev's Romeo and Juliet has been performed by renowned companies worldwide as one of the pillars of the classical ballet repertoire.
John Cranko originally created an adaptation of Romeo and Juliet for the La Scala ballet company, in which production starred famous prima ballerina Carla Fracci and dancer Mario Pistoni in the title roles. Four years later, in 1962, under his direction, the Stuttgart Ballet presented a revised version starring Márcia Haydée and Ray Barra. Cranko's production continues to enjoy great popularity and is part of the repertoire of numerous world-renowned companies (National Ballet of Canada, Australian Ballet, Paris Opera Ballet, Vienna State Ballet, Joffrey Ballet in Chicago, Teatro Municipal de Santiago in Chile, Finnish National Ballet, National Ballet of China in Beijing, Bavarian State Ballet, Boston and Washington Ballet etc.).
Powerfully conveying human emotion, the new production of Cranko's adaptation of William Shakespeare's immortal story features the captivating original sets and costumes by world-renowned designer Jürgen Rose.


Artists of the Czech National Ballet
Students of the Prague Dance Conservatory
External Members
Orchestra of the State Opera



Subject to change.